Following the appointment of Richard Henderson as Chief Executive we are pleased to announce we have appointed Ben Holdaway as Director of Operations.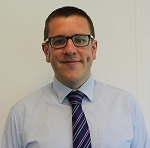 Ben joined EMAS in June 2016, through a seconded opportunity as Associate Director of Operational Improvement from Yorkshire Ambulance Service. In December he was appointed as Deputy Director of Operations and led us through our transition into the national Ambulance Response Programme. Ben is well known across the service having worked at EMAS before as a Senior Manager in our Emergency Operations Centre.
David Whiting, Chief Operating Officer said: "This is an excellent opportunity for Ben. He is a highly experienced and respected leader and a great asset to EMAS. He will continue to use his expertise and knowledge to drive forward our plans for improving operational services."
Ben will be taking up his role in the new year, subject to the employment checks for directors, and a further announcement will be made advising colleagues of the implementation date.
 We will be advertising the role of Deputy Director of Operations from Monday 27 November 2018.
---